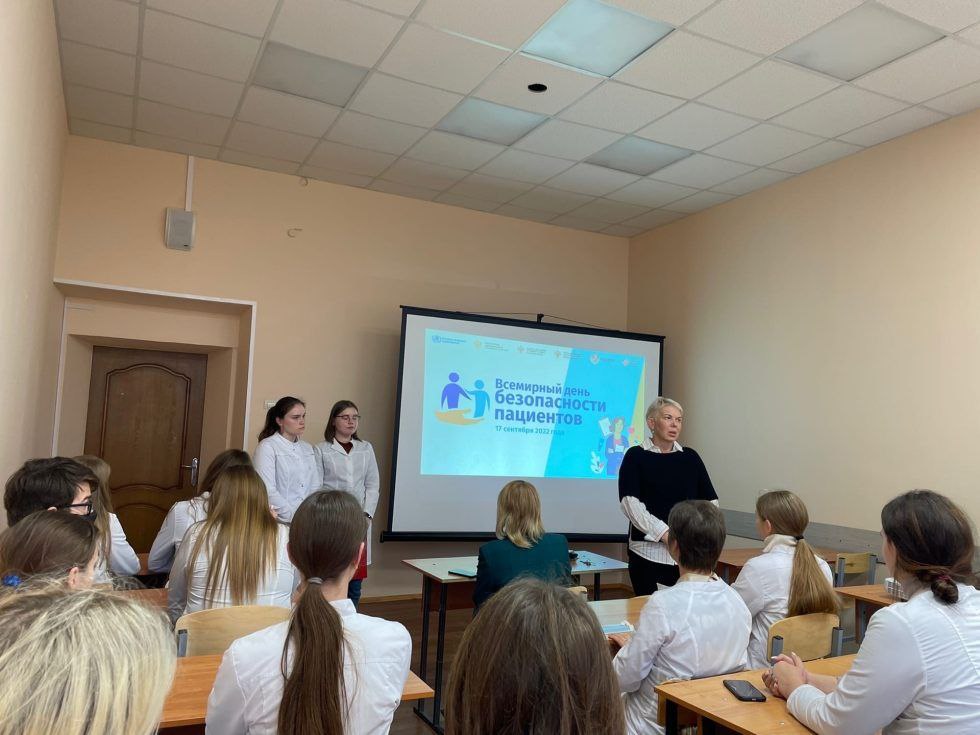 As part of the World Patient Safety Day an interactive lecture with such name was held, prepared by the volunteers of Goodness Vaccine group of the Department of Microbiology, Virology, Immunology (scientific advisor of the volunteer group – Parakhina Olga Vladimirovna).
Viruses are invisible but active participants in the fight for a place in the Earth's biosphere. Despite all the achievements in science, viruses threaten to the mankind with major epidemics, the same as hundreds of years ago. Fighting between viruses and humans continues. Why do new, increasingly dangerous forms of viruses appear every year? Here's the question that started the lecture.
The event was opened by the head of the Department of Microbiology, Virology, Immunology, Doctor of Medical Sciences, Professor  Medvedeva Olga Anatolyevna, having focused the audience's attention on the relevance and importance of the lecture topic.
The event was attended by students and teachers of KSMU. 3rd-year students of Medical Faculty, Dzholdybekova Maria and Bondarevskaya Olga, presented their reports. During the lecture, the following questions were discussed: the first mentions of acute respiratory infection (ARVI); viruses causing Arvi; general and specific symptoms of viral infections; ARVI transmission routes;  methods of ARVI prevention, importance of vaccination and its impact on human immunity.
The important thing is that it was possible not only to obtain information, but also to test the knowledge by participating in the quiz, as well as to get answers for arisen questions.