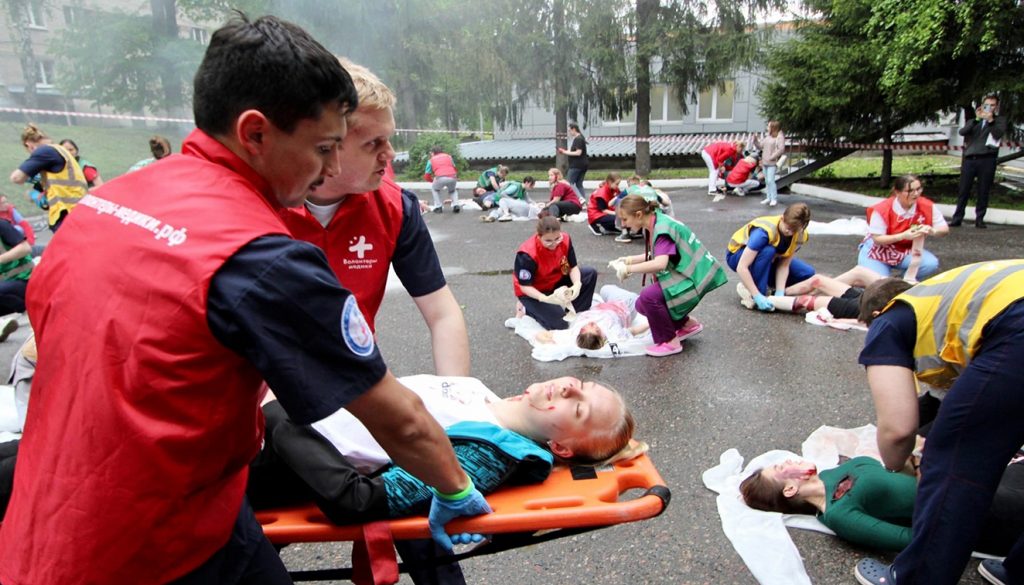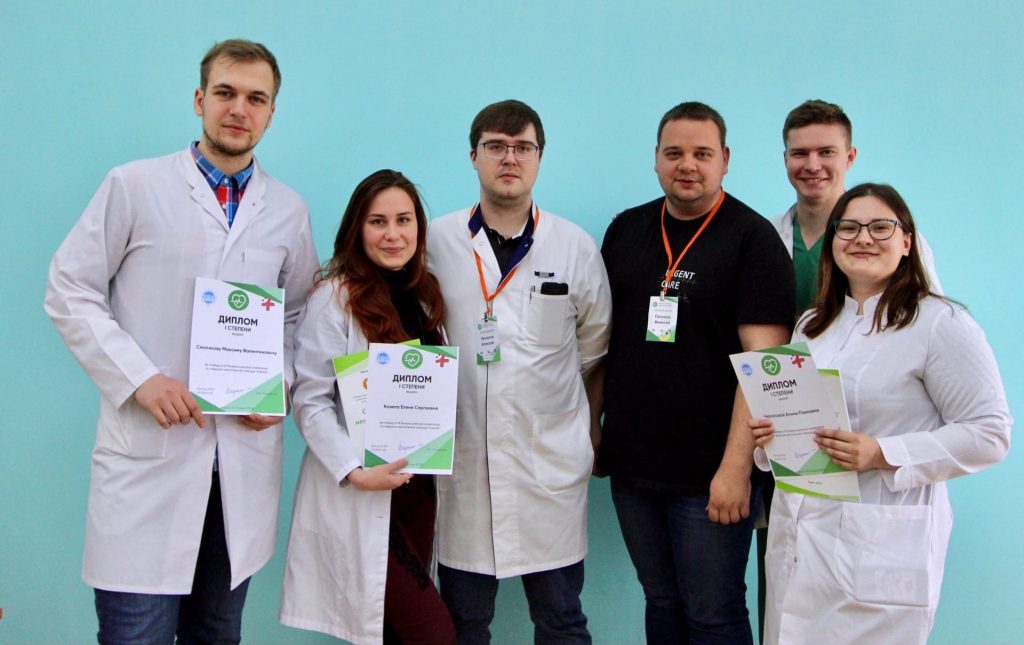 On May 13-15, 2022, the seventh Olympiad on emergency care skills "Exercises" was held at KSMU. Two independent competitive programs are held during the Olympiad: for students of 1-3 courses and 4-6 courses.
Partners of the Olympiad: administration of the Kursk region, Health Committee of the Kursk region, VOD "Medical Volunteers", ANO "Resource Center of Volunteerism of the Kursk region", Kursk Regional Multidisciplinary Clinical Hospital.
This year the Olympiad has returned to its usual scale! 20 teams of 4 people took part in the competition program for senior courses, 50 teams of 2 people took part in the junior program. In total, more than 250 people were involved in the event.
The Olympiad was opened by the Rector of KSMU, Honored Doctor of the Russian Federation, Honored Scientist of the Russian Federation, Doctor of Medical Sciences, Professor Viktor Anatolyevich Lazarenko, noting the importance of the event.
The participants of the Olympiad were addressed with welcoming words performed by: Ekaterina Gennadyevna Golovanova – Director of the Resource Center for Volunteerism of the Kursk region, Deputy of the Kursk Regional Duma; Sergey Pribylov – MD, Professor, Head of the Department of Internal Diseases INO, Deputy Chief Physician for the medical part of the Kursk Regional Multidisciplinary Clinical Hospital.
The guests of KSMU were teams from Astrakhan, Belgorod, Voronezh, Moscow, Orel, Perm. The format of mass casualty training has also returned: 40 rescuers assisted 60 victims as a result of an explosion and fire simulation at an outdoor concert, for the first time using real ambulances.
The essence of the Olympiad is the sequential passage of several simulated scenarios reflecting clinical situations in hospitals and beyond. Each scenario is created specifically for "Exercises" in accordance with current clinical recommendations. The simulation uses mannequins, patient actors, realistic makeup and special effects, real medical and rescue equipment.
As a result of the competition, the team from Belgorod won the junior Olympiad, and the team of the 6th year of KSMU won the senior Olympiad. The winners were the teams of Perm, Belgorod, Astrakhan and Kursk.
The Organizing Committee of the Olympiad thanks for the help in organizing the Rector of KSMU, Professor V.A. Lazarenko, the staff of the federal accreditation center of KSMU, the leadership of the Kursk regional Multidisciplinary Clinical Hospital and all volunteers.