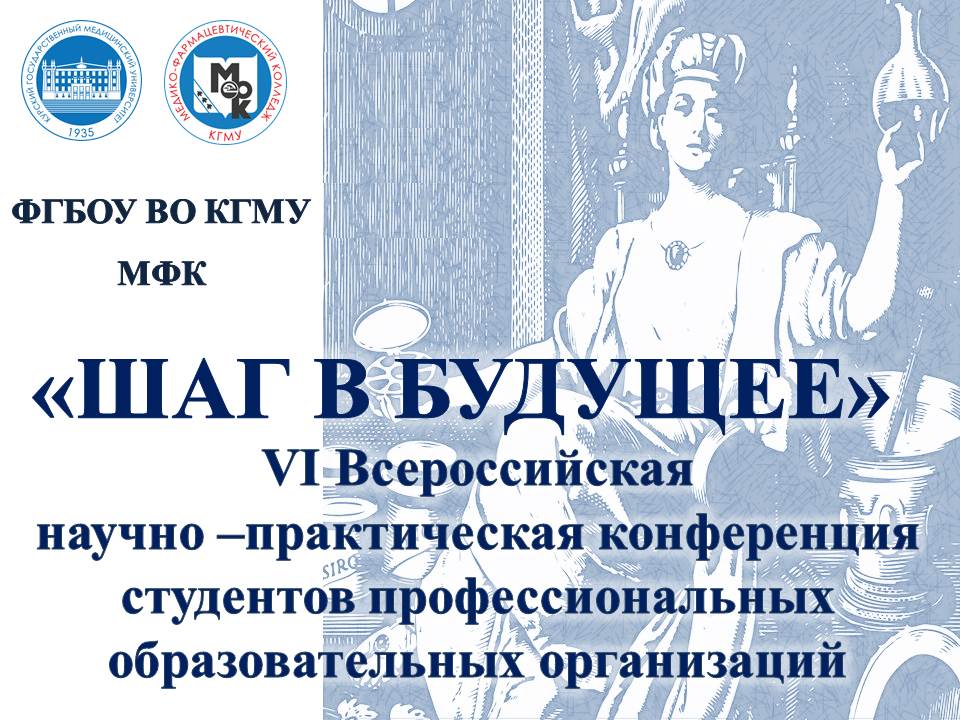 April, 6, 2022 VI all-Russian Research and Practice conference took place in medical and pharmaceutical college for students of professional and educational organizations "Step into the future".
The purpose of the conferenece is to create conditions for research and development activity of students, for revealing their scientific and creative capabilities, providing tribunes for free sharing opinions of all participants as well as assistance in professional identity.
The conference was attended by representetives of 30 professional and educational organizations and profile classes of general secondary schools from Kursk and Kursk region , Moscow and St.Petersburg, Yekaterinburg and Kazan, Orel and Tula, Belgorod and Stary Oskol, Bryansk and Lipetsk, Usman and Zadonsk, Donetsk of Donetsk People's Republic.
His welcome speech presented docent, prorector of educational activity and general questions, head of chair of CEI pediatric surgery, Doctor of Medicine- V.P. Gavriluk and the doctor of medical and pharmaceutical college of KSMU, Doctor of Pharmacy- I.V. Tolkacheva.
At the plenary meeting the following reports were presented:
1. THE MAIN CORE AREAS OF STUDENTS RESEARH SOCIETY OF IFC KSMU
Morozova Alina Michailovna- the third year student, 1st group of laboratory diagnosis department, the SRS council chair of medical and pharmaceutical college of KSMU.
The scientific adviser: Metlenko Ekaterina Alekseevna.
2. CRIMEA IN LIFE AND CREATIVITY OF CULTURAL FIGURES OF XIX – XX CENTURY
Kiryanova Anastasia Alekseevna
The scientific adviser: Boldyreva Ludmila Vasilievna
FSBEI HE "Kursk State Medical University" Health Ministry medical and and pharmaceutical college
3. ASPECTS OF ARTIFICIAL INTELLIGENCE DEVELOPMENT IN HEALTHCARE OF THE RF
Sharapova Marina Maksimovna
The scientific adviser: Alimova Pari Umedovna
SBPEI MHD "Medical college №6", Moscow
The work of the research students conference was organized at 13 sectional platforms. The most popular questions were: modernization of the medical branch, organization of professional and preventive activities of medical personelle, healthism and factors of health problem risks, preventive measures of negative factors among young people, questions of youth policy and student government.
The experts of the students conference summerized its results and definied the best reports.
The electronic collection of materilas of the conference was issued which will be included in the system of Russian Research Citation Index (RRCI).