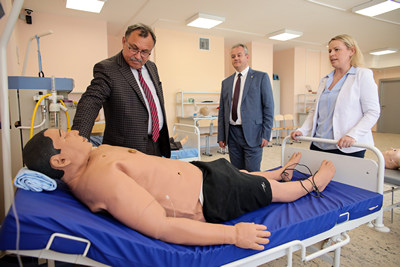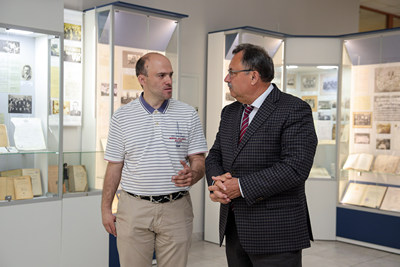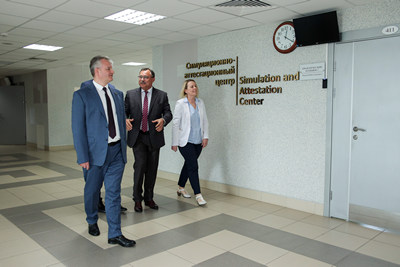 As part of the official and business delegation of the Kursk region headed by the Governor of the Kursk Region R.V. Starovoit, Rector of the Kursk Medical University V.A. Lazarenko visited the Belarusian State Medical University in the Republic of Belarus. The questions of the main directions of international activities of universities and the implementation of scientific projects were discussed within the framework of the meeting with the rector and the rector's office.
During the discussion of the strategy for further development of cooperation, an agreement was reached on the continuation and development of academic exchanges, vectors of further scientific and educational cooperation between universities and further expansion of scientific cooperation.
The rector of KSMU V.A. Lazarenko also visited educational and research laboratories, simulation and certification center with simulation dummies of the V level of realism, the Museum of the history of the university and got acquainted with the exposition dedicated to the memory of the participants of the Great Patriotic War.
In the afternoon, V.A. Lazarenko took part in negotiations with representatives of manufacturers of medical instruments, medical devices and consumables. The Rector discussed the possibility of small-scale production of Kursk Medical University developments: surgical instruments (surgical trocar, surgical scalpel, atraumatic universal surgical clamp, vascular needle clamp, device for removing ligatures from the lumen of the gastrointestinal tract); medical devices (a means for the treatment of purulent-inflammatory processes of soft tissues and mucous membranes (seven compositions), polymer wound coatings for the treatment of infected wounds and trophic ulcers, anti-adhesive agents (mesogel in its various variations), synthetic hernia implant with collagen-stimulating and anti-inflammatory effect, means for stopping parenchymal bleeding in liver and spleen injury (sponges, powders)).
The analogues of surgical threads and textile products made from them (prostheses, wound coverings, etc.) are from 2 to 5 times cheaper if compared to European and American analogues.