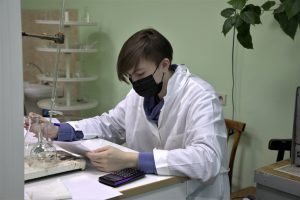 On January 18-19, 2022, our university traditionally hosted participants in the Regional stage of the Russian-wide Chemistry Olympiad for schoolchildren.
The main goals and objectives of the Olympiad are: the identification and development of student creative abilities and interest in research activity; creating the necessary conditions to support gifted children; promotion of scientific knowledge; maintaining a unified chemical educational space in Russia; development of extracurricular activities. The Olympiad serves teaching, developmental and educational functions. The jury for evaluating the results of the Olympiad included teachers from the departments of general and bioorganic chemistry, pharmaceutical, toxicological and analytical chemistry and teachers from general educational organizations with extensive experience in participating in Olympiads in chemistry.
The Olympiad was attended by 74 students from the 9th, 10th, 11th grades of the city of Kursk and the Kursk region, who had become the smartest according to the results of the municipal stage. Nonresident participants of the Olympiad were accommodated in the dormitories of the campus of the university.
The Olympiad included two stages – theoretical and practical. The assignments were presented by the central organizing committee, they touched on all areas of chemistry and were quite difficult. Five hours later, all the works on the theoretical round were collected and encrypted, after which the jury began to check based on the principles of collegiality and impartiality. All participants, regardless of the result, were invited to a practical tour, which took place at the "chemistry" departments of the university. All workplaces were equipped with reagents and utensils, to ensure the rules of safe work in the laboratories of the chemical departments of the university, the participants of the Olympiad were dressed in bathrobes. Evaluation of the work of schoolchildren was carried out in the process of its implementation and taking into account the written presentation of the results.
All the events were held in accordance with the sanitary and epidemiological rules SER.1 / 2.4.3598-20 "Sanitary and epidemiological requirements for the order, maintenance and organization of work of educational organizations and other social infrastructure facilities in the context of the spread of a new coronavirus infection (COVID-19)".
In general, the Olympiad was held at a high level and in a working environment.
We wish the participants and their teachers health and creative success!