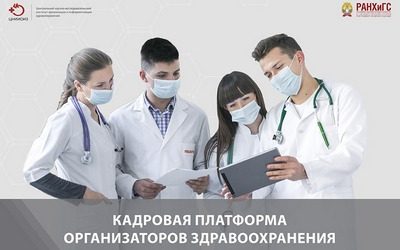 The operators of the Russian-wide project are FSBI of National Medical Research Center of Organizational Health and RANEPA. The Healthcare Organizers' Employee Platform is a project that targets current and future healthcare organizers. Participation in the project provides an opportunity to join the community of professionals, as well as develop demanded competencies within the framework of educational programs and expert sessions. One of the main advantages is the opportunity to develop a career in your region and beyond.
Who can participate
Professionals with higher medical / economic / legal education;
Those who want to develop their careers in healthcare organization at various levels.
What opportunities does the project give?
Communication with like-minded people – exchange of experience and ideas, getting advice from colleagues from all regions and experts.
Opportunity to apply for managerial positions at various levels.
Expert support. For project participants, strategic sessions will be held with the participation of decision makers.
Participation in the development of strategic initiatives and industry projects for the entire country.
"Our project provides an opportunity to build a career where you are needed right now. Take part in expert work on the organization of health care throughout the country. Promote initiatives and get support from the community," said Olga Kobyakova, director of the FSBI of National Medical Research Center.
To participate in the project, you need to go through three stages:
Stage 1 – until November 1, 2021, you must fill out an application on the website.
Stage 2 – undergo testing and assessment of competencies.
Stage 3 – write a motivational essay.
The selection results will be announced in December 2021.
More details: https://vademec.ru/news/2021/10/22/tsniioiz-i-rankhigs-zapustili-proekt-kadrovaya-platforma-organizatorov-zdravookhraneniya-/