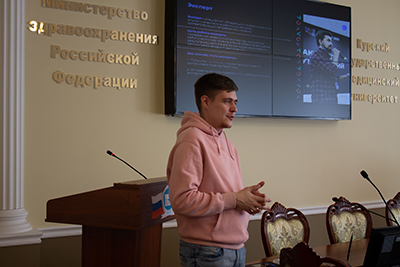 "Every person, especially young people, should have a chance for success," Alesya Kuznetsova, Vice-rector for Educational Work, Social Development and Public Relations, is sure. – Modern youth is highly motivated and focused on professional achievements. Your Move is a wonderful project, it motivates you to constantly study, develop your professional skills, develop projects, share your experience with others, team up, create something new, the main thing is that there are no losers here."
In the frame of the presentation, students were told about the formats and prospects of participation in the second season, what advantages and opportunities the contest provides.
"This year it is not a contest, but a project that is divided into two large blocks. This is a competitive block where students can reveal themselves, their best qualities, show their projects and win cool prizes. And the second very big block of our contest is the formation of a community. This year we aim not only to encourage the activity of students, but also to involve the maximum number of our youth in our large student community," said Roman Kiriak, the head of the competition part of the project.
The winners of the contest will receive one million rubles each. And the finalists will go on an exciting journey around the country.