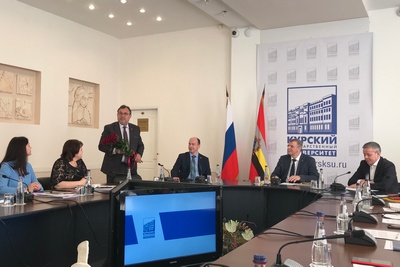 On April 28, 2022, Kursk State University hosted an expanded meeting of the rectors council of the Kursk region universities with the participation of Deputy Governor of the Kursk Region V.N. Karamyshev and Chairman of the Youth Policy Committee of the Kursk region V.V. Grebenkin.
Before the start of the meeting, the Chairman of the Rectors Council of the Kursk region, the rector of KSU, Professor A.N. Khudin, congratulated the Rector of KSMU, Professor V.A. Lazarenko, on his birthday and the awarding of the title "Honored Scientist of the Russian Federation", noting that in addition to this high title, Viktor Anatolyevich was awarded the title "Honored Doctor of the Russian Federation".
At an expanded meeting vice-rector for Educational Work, Social Development and Public Relations of KSMU Associate Professor A.A. Kuznetsova presented her report "On the experience of strengthening the connection of youth policy with educational, scientific and innovative activities in KSMU. On the involvement of students in socially-oriented projects: experience, problems, solutions" was made by the
The report "On realization of the main program of higher education in online form: statutory regulation, experience of interaction" was presented from KSU, and colleagues from the I.I. Ivanov KSCA shared their experience in creating a modern digital ecosystem of the university for scientific and educational activities.
Deputy Governor of the Kursk region Karamysheva V.N. and Chairman of the Youth Policy Committee of the Kursk region Grebenkina V.V. in their reports noted the importance of coordinating the activities of regional executive and legislative authorities and educational institutions in the realization of priority areas of youth policy, the formation of a common action plan for educational work and youth policy in the Kursk region as well as noted the need to consider the issue about the provision of creative spaces for students in educational institutions.