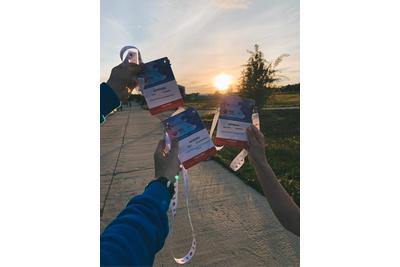 From June 3 to 5 at the premises of the ethnographic park-museum "Ethnomir" the VII All-Russian Forum of students of medicine and Pharmacy and the I All-Russian Innovation Forum of students-doctors and young doctors "Pulse of time" wasc held in the Kaluga region.
During three days of the forum the delegation of Kursk State Medical University represented by the Chairman of the KSMU Student Self – Government Council – Ivan Frishko , the Chairman of the KSMU Student Scientific Society – Ilya Shlyaptsev and the Head of the Information sector for cooperation with KSMU Student Quality Council – Kristina Eremina , had the opportunity to communicate with students and residents of medical universities in Russia, gained new experience within the tracks "Youth Policy", "Science and Innovation" and "Professionalism", attended lecture courses from speakers in various areas of healthcare.
"The opportunity to participate in this format, for me personally, has become a platform to form a personal vector of further professional development, to find answers to my questions about the specialty, to accept the experience of people who have already passed a significant part of their professional path. These three days are a great resource charge for a long time," Ivan Frishko shares his impressions.
Kursk State Medical University expresses its sincere gratitude to the Ministry of Health of the Russian Federation for the opportunity to participate in such formats necessary for the formation of future professionals.
The Student Self-Government Council expresses its gratitude to the Rector of Kursk State Medical University, Viktor Anatolyevich Lazarenko, for maintaining a comfortable environment for the development of young leaders inside our university and providing an opportunity to engage in extracurricular activity formats offered by other regions.