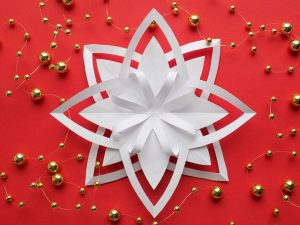 Winter is an unusually beautiful time of the year! It also includes the New Year, the coming of which plunges us headlong into the atmosphere of magic! It feels like a miracle is about to happen!
For first-year students of the International Medical Institute who arrived from the warmest countries, the first Russian winter in their lives is a real miracle! This beauty inspires creative souls again and again to create new interior decorations! And we create! On November 25, the teacher of IMI Dugina M.V. held a master class on making snowflakes from paper for students from India in the dormitory No. 4. There was an atmosphere of creativity and joyful communication. Each one in his own way, each one in his own technique, close to him, made snowflakes!
Snowflake is a small miracle of nature! As it is sung in the song: "There are no identical snow stars", so there are no identical "snow stars" in the works of our foreign students. This is a little, nice, fragile snowflake. Look how different and beautiful they are!