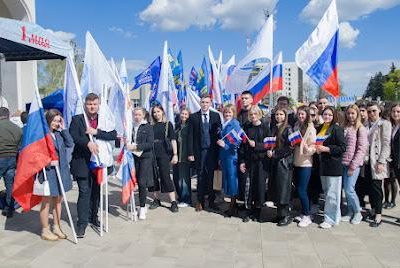 A rally-concert dedicated to the Day of Spring and Labor on May 1 was held at the Theater Square.
Labor collectives and trade unions, public associations, political parties, labor veterans, educational organizations were present on this day.
At the same time, the delegation of Kursk State Medical University was one of the most numerous: representatives of the university administration, about 200 students, members of the student trade union organization , the student council, the headquarters of volunteer teams and vigilante groups.
The rally-concert was attended by Deputy Governor Viktor Karamyshev, Chairman of the Kursk Regional Duma Yuri Amerev and other high-ranking officials.
Viktor Karamyshev noted that as many years ago, the Day of Spring and Labor unites generations and people of different political views.
Beautiful, cheerful with the flags of KSMU, our delegates supported the bright holiday that took place on this day in the city.
After the official part, a concert was held, at which the best creative teams of Kursk were performed.