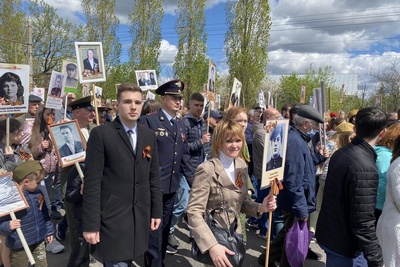 On May 9, 2022, after a two-year break due to the difficult epidemiological situation, the All-Russian action "Immortal Regiment" took place again.
Kursk citizens with pillars and St. George ribbons on their chests began to approach the Triumphal Arch of the Kursk Bulge Memorial Complex an hour and a half before the start of the movement of the columns.
The delegation of KSMU also took part in the march of the "Immortal Regiment". More than 70 medical volunteers and 30 representatives of the Operational Youth Detachment of the Voluntary People's Squad of the University accompanied the "Regiment", and the administration, teachers and students were a part of it. In total, three columns gathered on this day, which, with front-line songs, shouts of "Hurrah!" and portraits of their family Heroes, marched victoriously through the Kursk Bulge Memorial Complex.