The library holding received the book "Grandfather's Stories" written by Mikhail Iosifovich Ravich-Shcherbo (1896-1986) – Doctor of Medical Sciences, Professor, Head of the Department of Biological and Organic Chemistry at Kursk Medical Institute for over 30 years (1936-1970).
"If it were not for biological chemistry, I would probably be a good practitioner," Mikhail Iosifovich begins his story "The First Steps of the Path".
Mikhail Iosifovich was a great admirer of classical music and played various stringed musical instruments himself. During the difficult war years, during the evacuation at the Alma-Ata Medical Institute, he managed to organize a quartet, which later gave many public concerts (the story "Music in my life").
The book was prepared for publication by the daughter of Mikhail Iosifovich – Mikhailova Ksenia Mikhailovna. Ksenia Mikhailovna – Candidate of Medical Sciences in Psychiatry, psychotherapist-psychologist, author of a number of books, 4 of which were published in the series "Psychologist to Yourself" and "Home Psychotherapy".
The book was donated to the university by a student of Mikhail Iosifovich – Lyudmila Alexandrovna Novikova, a doctor of ultrasound diagnostics of the highest qualification category, Honored Doctor of the Russian Federation.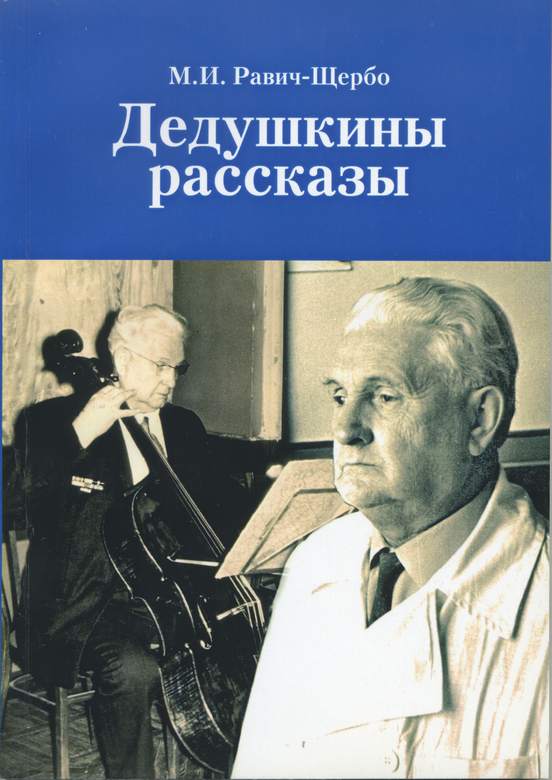 Ravich-Shcherbo, M. I. Grandfather's stories / M. I. Ravich-Shcherbo; comp., comment. K. M. Mikhailova. – Kiev: Chetvertaya hvilya, 2014. – 178 p. : ill.