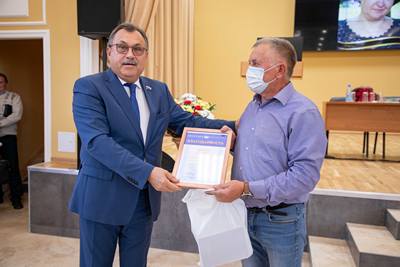 Today, within the walls of the dormitory No. 6 of the Medical and Pharmaceutical College (MPC) of KSMU, the assembly hall "Savelevsky" was solemnly opened, named so by the decision of the Academic Council and on the initiative of the rector of KSMU in honor of the director of the college Natalia Nikolaevna Savelyeva. The event was attended by the teaching staff of the university and college.
Natalia Nikolaevna passed away in September of this year at the age of 57. She was a graduate of the medical university, for the last 10 years she headed the Medical and Pharmaceutical College. She has always been devoted to her profession – pharmacy and was an example for her colleagues, showing herself as a talented leader, organizer, teacher.
Acting Director of the MPC of KSMU Irina Olegovna Barteneva, together with Rector Viktor Anatolyevich Lazarenko, cut the red ribbon, noted that Natalia Nikolaevna personally discussed every detail, every stroke in this hall. The idea to make a hall in the style of the Athenian school belonged to her. She spent the whole summer here, managing the renovation work.
A person is alive as long as the memory of him is alive! – Rector Viktor Lazarenko pointed out. – The memory of Natalia Nikolaevna Savelyeva will remain for many generations. Everything she planned and implemented found a response among the teaching staff and students. Young people should look up to such a person.
In the end, the rector presented letters of thanks to the specialists of the Department of Economic Activity of the Moscow State Medical University and the contracting organization who took part in the repair of the assembly hall.