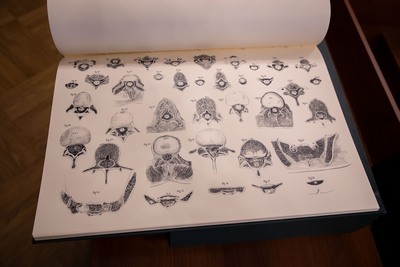 Today, the Museum of the Anatomical Theater of the Kursk Medical University has been enriched with a rare bibliographic exhibit. The atlas "Illustrated topographic Anatomy of cuts made in three dimensions through a frozen human body" is a unique copy of Pirogov's famous "Ice Atlas" of the 1850 edition.
In total, there are no more than a hundred copies of it in the world, which were made in the 19th century. The publication consists of four folios, the total weight of which is more than 25 kilograms.
The university received such a gift from the Russian Scientific Center of Surgery named after Academician B.V. Petrovsky, with whom KSMU actively cooperates within the framework of a previously signed cooperation agreement.
A rare atlas was presented to the acting rector, Vice-rector for Educational Activities and General Issues of KSMU Vasily Petrovich Gavrilyuk by the scientific secretary of the Russian Scientific Center for Surgery named after Academician of B.V. Petrovsky.  Anna Mikhailova-Rubanchenko, a graduate of KSMU in 2006, says:
– I have been living and working in Moscow for a long time. But, when I return to Kursk, I try to visit my alma mater. Every time I note how the Kursk Medical University is getting prettier and developing, strengthening its authority. The appearance of the Anatomical Theater on the territory of KSMU is a significant milestone in the development of Russian science. I am sure that a copy of Pirogov's "Ice Atlas" will take its rightful place in the anatomical collection of KSMU!