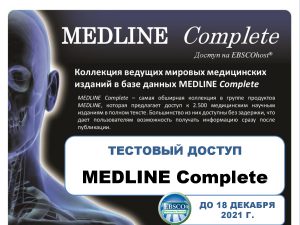 Within the framework of the National Subscription project and with the assistance of the Russian Foundation for Basic Research (RFBR), the university was granted test access to the MEDLINE Complete full-text collection.
MEDLINE Complete is the most extensive collection in the MEDLINE product group, which offers access to 2,500 medical scientific publications in full text. Most of them are available without delay, which allows users to receive information immediately after publication.
Access period: from October 18 to December 18, 2021.
Access on the EBSCOhost platform.
Resource URL: https://search.ebscohost.com
Access from any computers of the library and the university by the IP addresses of the university.
Login and password for individual work from external computers can be obtained:
– in the library,
– in your Account on the KSMU website (section "Access to EBS"),
– request the email address libkgmu@mail.ru.
Additionally, the following databases are available in test mode on the EBSCOhost platform:
eBook Clinical Collection Trial is the database focused on medical professionals, researchers and medical students. The collection includes more than 2000 modern publications devoted to general medical practice, various specialties, patient care and auxiliary specialties, as well as relevant scientific disciplines. The content is updated quarterly, all publications are available for unlimited use – this is especially convenient for health researchers for whom deadlines are of great importance.
eBook Open Access (OA) Collection (EBSCOhost) is for search and view the full text of e-books