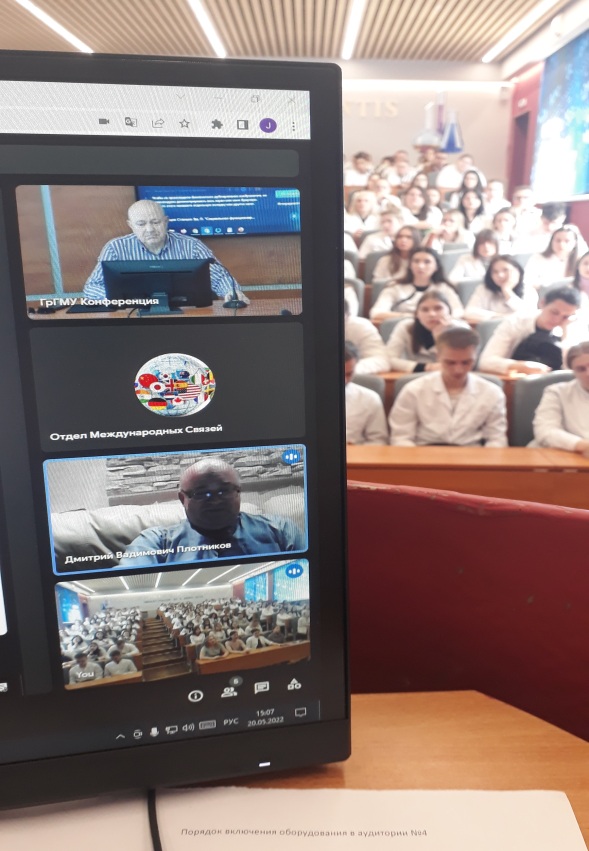 In continuation of interuniversity cooperation, on 20.05.2022, the head of the Department of Psychiatry of Grodno State Medical University, MD, Eduard Pavlovich Stanko gave a lecture to 5th-year students of the KSMU Medical Faculty on the topic: "Social functioning of HIV-infected opium drug users".
Dmitry Vadimovich Plotnikov, Head of the Department of Psychiatry of KSMU, welcomed the foreign lecturer, who noted the relevance and actuality of the lecture topic. Drug use is not a disease actually. This is a whole complex of pathological changes in the body that replace the awareness of reality, destroy a person's personality, necessarily change the circle of communication. If the addict is not given aid, his addiction will lead to death. At the end of the lecture, the students of the Faculty of Medicine asked questions, to which the lecturer answered in detail.
In conclusion, Assistant Director of the International Medical Institute of KSMU, Associate Professor Y.L. Petrachevskaya, proposed to continue close cooperation between partner universities and invited E.P. Stanko to participate in scientific and practical conferences of KSMU.