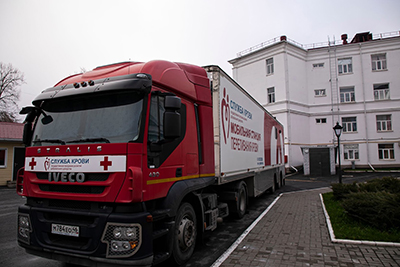 In the morning, in the courtyard of the main building of the Kursk State Medical University, a mobile complex for the procurement of donor blood appeared. And not by chance, as as April 19 and 20 are declared donor days in KSMU and are dedicated to the National Donor Day in Russia.
According to the head of the campaign, associate professor of the Department of Internal Diseases No. 2 Yulia Zhilyaeva, such events,together with the Kursk regional Blood transfusion station, are held at the university twice a year: in autumn and spring. Usually, the station requires blood from about 120 people, but there are always more willing – from 150 to 180 donors.
Earlier, the action took place for one day and its participants went to the blood transfusion station themselves.
Alina Primakova, a second-year student of the Faculty of Medicine and Prevention, is a fairly experienced donor, as she is donating blood for the ninth time. The girl calls the donation "a silent feat in the name of humanity."
– I was brought up just like that: if you want and can help, do it, – Alina admits. – Moreover, the profession I have chosen – a medic – imposes its own adjustments, because it's no secret that most medical workers are donors, and Honorary ones.