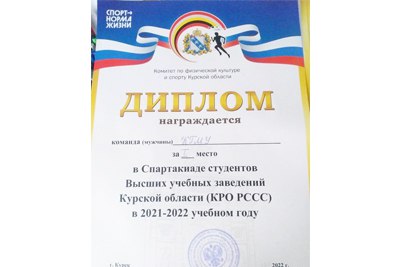 On April 23, 2022, weightlifting competitions were held in the sport complex "SPARTAK" in the standings of the Spartakiad among universities of the Kursk region of the regional branch of the Russian Student Sports Union.
The honor of the Kursk State Medical University was defended by: Babkin Andrey, Nikita Suvorov, Bereshvili Roman, Vardapetyan Ashot, Gavazhuk Alexander, Potzeluyev Igor, Fedin Daniil, Sivkov Anton. All representatives of our national team in their weight categories won prizes, thanks to which the KSMU team took the honorable first place in the team competition in a hard struggle!
Congratulations to our students and their coach with a well-deserved victory and we wish new sports achievements!