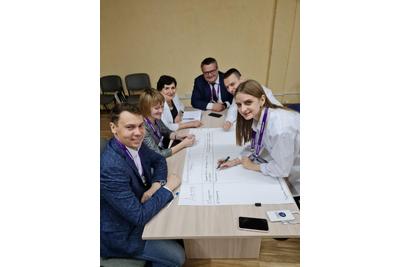 Vice-Rector for Educational Work, Social Development and Public Relations of Kursk State Medical University Alesya Kuznetsova is taking part in a seminar-meeting with vice-rectors responsible for youth policy and educational activities in the Central Federal District of the Russian Federation, which started yesterday in the city of Tula, and will be held for three days.
The purpose is to synchronize the educational function of universities and regional youth policy, the discussion of functional tasks of vice-rectors for educational work and extracurricular activities. The participants also relate to the topic of information security.
The representatives of the Central Federal District universities share successful practices and propose new projects.
In particular, Alesya Anatolyevna presented the experience of KSMU on the implementation of student self-government, the program "Stress Factor" and "Stress-out", directions for the prevention of extremism and terrorism among young people, the organization of the headquarters of volunteer detachments. She also told about the work of the Social and Psychological Centers of KSMU.
The delegation led by the chairman of the regional Youth Policy Committee Vladimir Grebenkin included vice-rectors of the Agricultural Academy, Kursk State University and the Academy of Civil Service.