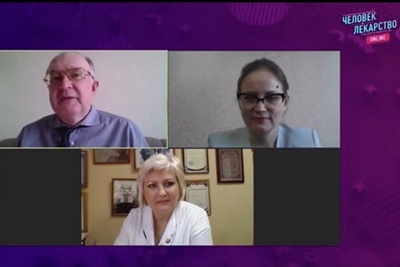 On April 4-5, 2022, scientists from Kursk State Medical University took part in the XXIX Russian National Congress "Man and Medicine".
The Congress was presented in the format of an online broadcast and united leading healthcare specialists on topical issues of modern medicine.
Two symposiums in the congress were held by professor Vadim Petrovich Mikhin, Head of the Department of Internal Diseases No. 2 of Kursk State Medical University, member of the Presidium of the Russian Scientific Medical Society of Therapists. On the first day of the Congress, April 4, 2022, Professor V.P. Mikhin was the chairman of the symposium "Topical issues of management of patients with high and very high cardiovascular risk: what's new?", where he presented the report "Tactics of prevention of complications after COVID-19 infection in patients with high cardiovascular risk".
Under the frame of the congress on April 5th, 2022 there took place the symposium "Atherosclerosis of the coronary and main arteries. Invasive treatment and secondary prevention against the background of the COVID-19 pandemic and comorbid pathology. The view of an angiosurgeon, cardiologist and therapist" chaired by Professor V. P. Mikhin and Professor N.Y. Borovkova.
The following reports were presented on behalf of Kursk State Medical University: V.A. Lazarenko, E.A. Bobrovskaya, M.I. Komarnitskaya "Revascularization of the main and coronary arteries in patients with postcovid syndrome. Tactics of treatment and rehabilitation. The view of an angiosurgeon", V.P. Mikhin, V.S. Rodionova, N.Y. Mailova "Acute coronary syndrome against the background of comorbid pathology and covid infection. How to reduce the risk of fatal complications at the hospital and post-hospital stages of treatment."
Interesting approaches to the effectiveness and safety of anithrombotic therapy were reported by Professor of the Department of Hospital Therapy and OVP named after V.G. Vogralik of the Volga Research Medical University, member of the Board of RKO Natalia Yurievna Borovkova "Anithrombotic therapy for coronavirus infection in persons with high cardiovascular risk: focus on safety". Ш
In the reports particular attention was given to interdisciplinary approaches to the problems of obliterating atherosclerosis, emergency data were presented on the aspects of medicamental support within surgical interventions on coronary and main arteries in patients with atherosclerosis with comorbid pathology who have undergone coronavirus infection, as well as pharmacotherapy tactics at the period rehabilitation.
We would lke to note that such format of the symposium in the aspect of dialogue between cardiologists, therapists and cardiovascular surgeons is being held for the second year and has already become traditional.
The major importance of multidisciplinary interaction, the exchange of scientific experience, and a high level of work were appreciated by the participants of the symposium, which will enable to provide effective assistance in diseases of the cardiovascular system.
We express our warm attitude to the organizing committee of the Russian National Congress "Man and Medicine" for the opportunity to take part in the congress.
Head of the Department of Internal Diseases No. 2, Professor V.P. Mikhin.
Professor of the Department of Surgical Diseases of INO, E.A. Bobrovskaya