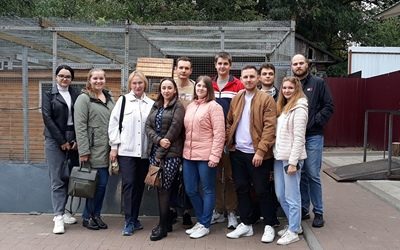 Not far from Kursk, in the village of Vorobyovka, Zolotukhinsky district, there is the estate of the famous Russian poet Afanasy Fet. Hundreds of tourists come here every year, among them not only poetry lovers but also everyone who wants to take a break from the hustle and bustle of the city. The local nature is magnificent at any time of the year! No wonder Ivan Turgenev called this corner "Little Switzerland", and Tchaikovsky "The Shelter of a tired poet"
Recently, the guests of the Fetovsky estate were resident doctors of KSMU under the leadership of the head of the Department of Radiation Diagnostics and Therapy, Doctor of Medicine, Professor N.S. Vorotyntseva. Young doctors got acquainted with the work of the famous poet in more detail, immersed themselves in the atmosphere of that time. In one of the halls, there is a grand piano played by Pyotr Tchaikovsky, who was a guest of the poet at one time. The library and billiard room have preserved the spirit of a 19th-century Russian manor house. The view from the window is magnificent: gazebos, a garden with many flowers, a mirror surface of ponds… On the territory, there are aviaries with animals – pheasants, horses and a donkey, a pack of greyhounds. An old house in a picturesque place on a hill is surrounded by a charming park and pond. The trip left an unforgettable impression: the pacification of autumn nature, immersion in the world of history and poetry. Among the reviews of young doctors:
"I was very pleased with our trip, where "the tired chest breathed pleasantly clean air."
"… and even a light rain did not become a hindrance when we got a unique opportunity to immerse ourselves in the world where the poet once lived"
"The harmony that fulfilled us did not let go for another day. Words cannot describe this beauty: you need to feel it!" – the excursion caused such delight!
Here A.A. Fet spent the best years of his creative life. The museum complex was opened in 2010. Currently, the Feta Estate Museum in the Kursk region is not only a museum institution but also a venue for festivals and various events. In the summer, the musical and poetic event "Nightingale Night" and the Russian-wide festival of writers "Fetov Readings" take place here.
"In my garden, in the shade of dense alleys,
A nightingale in love sings in the night.
And, gilded by the cold moon,
The fountain is noisy with a cold wave … "- this is how the poet himself described his possessions in the middle of the 19th century.