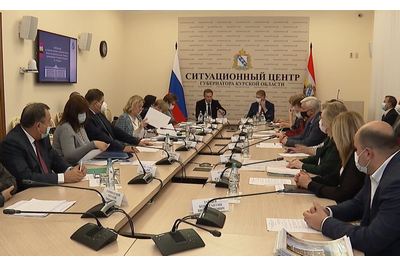 The Minister of Health of the Russian Federation Mikhail Murashko visited medical institutions of the region as part of the working trip of the Chairman of the Government of the Russian Federation Mikhail Mishustin to Kursk. The Head of the Ministry of Health examined city hospitals and polyclinics, assessed the quality of medical care to the population and talked with the leadership of healthcare organizations in the Kursk region.
According to Mikhail Murashko, many landmark decisions have been made for the healthcare system. One of the key projects for the Kursk Region is the construction of a new children's regional hospital equipped with the latest technology, with the latest operating rooms and modern intensive care wards. Mikhail Mishustin.
"Funds will be allocated from the federal budget for these purposes, and the hospital will be built. The planned dates are announced for 2024. We hope that the region will complete these works on time and with proper quality," the head of the Russian Ministry of Health pointed out.
The situation with the spread of coronavirus in Russia was also discussed. Mikhail Murashko noted that the situation in the country in this regard remains difficult. Hospitals and polyclinics continue to work under enormous loads on the healthcare system.
"It is worth mentioning right away about the situation with coronavirus infection, which is still taking place in the country. It remains just extremely tense and is escalating for now. Today, more than 1 million 38 thousand patients with COVID-19 are under the examination of medical workers," he pointed out.
According to Mikhail Murashko, COVID-19 disease occurs in each patient in its way, as various complications can develop — myocardial infarction and thromboembolism and arrhythmia complicating the course of the infection itself, including manifestations of various diseases, including hematological and endocrine.
"Therefore, vaccination, especially for people over 60 years of age, is life-saving. To neglect this, in my opinion— is like testing your fate for strength by jumping from a tower without a parachute. This is extremely dangerous. The vaccine today is a rescue parachute," the Minister said.
The head of the Ministry of Health added that in the conditions of a pandemic, the development of polyclinics is given the utmost attention. As for Kursk, district therapists in local polyclinics continue to conduct in-depth medical examinations of the population. The focus is on patients who have had COVID-19. We are also developing work with those who have chronic diseases, such as coronary heart disease, diabetes mellitus, arterial hypertension and many others that require constant monitoring.
"All patients who have suffered severe and moderate coronavirus, or even have some complaints after a mild course of the disease, simply need to undergo an in-depth medical examination. A large number of pathologies are detected after such a disease. Everyone can contact their polyclinic and get a specialist's advice. If necessary, doctors will conduct in-depth screening and hospitalize the patient," Mikhail Murashko said.