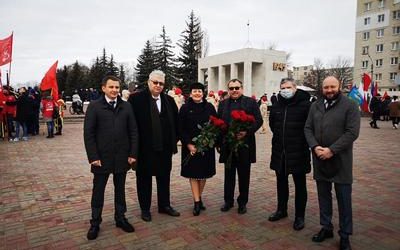 According to a long-standing tradition, on February 23, a solemn laying of flowers and wreaths at military memorials took place.
Rector of KSMU Professor V.A. Lazarenko took part in the laying of flowers and wreaths at the Eternal Flame at the Memorial to the fallen during the Patriotic War.
The head of the region Roman Starovoit, the mayor of Kursk Igor Kutsak, representatives of the regional administration, city hall, deputies, members of public organizations, political parties and citizens took part in the laying ceremony.
Citizens of Kursk have always been worthy warriors. The city of military glory has brought up more than one generation of defenders. Congratulations in February are accepted by those who served in hot spots, and those who serve daily or have already retired. This is also a holiday for medical workers who, in line with their profession, protect the health and safety of our fellow citizens on a daily basis.