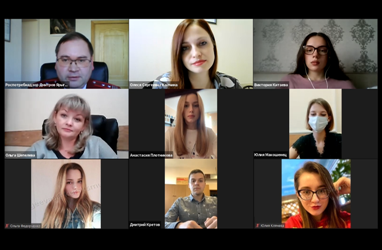 On November 10, an online meeting of 6th-year students of the medical and Preventive Faculty of KSMU with the acting head of the Dmitrov Territorial Department of the Department of Rospotrebnadzor in the Moscow Region Igor Vasilyevich Yarygin took place. During his speech, Igor Vasilyevich spoke about measures of social support for young professionals, working conditions, material and technical base, a team of employees and about the city of Dmitrov.
Special attention of all the participants was paid to the issue of housing allocation to young professionals. Igor Vasilyevich stressed that the issue of housing is solved at the level of the city administration and young professionals who have moved to live in Dmitrov are provided with rooms in dormitories, office housing, subsidies for the purchase of housing. The Department has a system of bonuses both for personal merits in work and quarterly payments. Giving a description of the team, Igor Vasilyevich noted that there are 24 employees working in the Department, the average age of employees is 44 years.
At the end of the speaker's speech, the students asked all their questions, recorded contact information and outlined plans for cooperation with Igor Vasilyevich in the future. You will learn more about vacancies, measures of social support for young professionals and working conditions from the speech of Igor Vasilyevich Yarygin – watch the video.