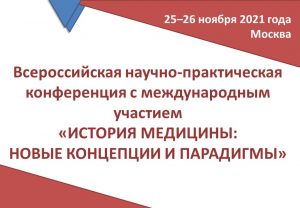 On November 25-26, 2021, Moscow will host the Russian-wide Scientific and Practical conference with international participation "History of Medicine: New concepts and paradigms", which will be held as part of the XVIII Congress of the All-Russian public organization "Russian Society of Medical Historians".
The event is organized by the Council for the Development of Historical and Medical Museums under the Ministry of Health of Russia, the Russian Society of Medical Historians, the N.A. Semashko National Research Institute of Public Health. Venue: N.A. Semashko National Research Institute of Public Health (Moscow, Vorontsovo Pole str., 12, p. 1).
The purpose of the conference is to review the current state of the history of medicine in Russia and the world, identify existing trends in scientific research, analyze existing problems and determine development prospects.
Participation format: face-to-face and online.
The Organizing Committee invites specialists in the field of history of medicine and museum business, representatives of scientific and educational institutions, undergraduates, postgraduates and all interested persons to take part in the conference. Applications containing original author's texts that meet the objectives of the conference are accepted. Participation in the conference is free of charge.
Following the results of the conference, the 6th Almanac of the ROIM (collection of scientific works OPERA MEDIC A HISTORICA ("Works on the history of medicine") will be released. Manuscripts prepared in accordance with the attached requirements and sent to the e-mail address of the ROIM are accepted for publication (info@historvmed.ru) to the executive editor of the issue, Professor K.A. Pashkov, until November 20, 2021. The collection is placed in the scientific electronic library eLIBRARY.RU . The Editorial Board reserves the right to select materials for publication.
For more information, contact the university library.