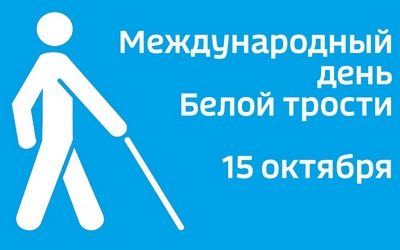 Its purpose is to draw public attention to the problems of blind people. Rehabilitation and awareness-raising activities aimed at supporting visually impaired people are being carried out. The Russian-wide Society of the Blind fully supports the motto of the International White Cane Day — "Tolerance, equality, integration".
The volunteer unit "Step towards" has been working on the basis of KSMU since 2007. Coordination of its activities is carried out by the Department of Social Work and civil defense of the Kursk State Medical University on the basis of the Kursk regional organization of the Russian-wide Public Organization of Disabled People. According to the head of the department Tatyana Alekseevna Shulgina, the main goal of the unit is comprehensive assistance to blind and visually impaired people, creating conditions for students to immerse themselves in a professional environment at the volunteer level.
– Our team oversees more than 500 visually impaired people living in Kursk and the region. The main areas of activity are mediation related to the registration of disabled people and the implementation of an individual rehabilitation program, accompanying disabled people to a rehabilitation center, to cultural events, and to social service organizations. We also draw attention to their problems, form a positive image of disabled people, promote employment and full integration into society. Traditionally, on this day, the Step Towards unit organizes actions. For students of the Faculty of Social Work, it is important not just to know how an inclusive environment is formed, but to be its creators.