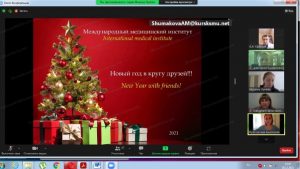 New Year is an international holiday that is celebrated all over the world, regardless of nationality. On December 28, students of the International Medical Institute congratulated all employees and students of the university on the upcoming holidays, preparing an unforgettable educational and entertainment event "New Year with Friends". Students from Malaysia, Brazil, Botswana and other countries gathered for the holiday. At the beginning of the program, students, their parents and teachers were congratulated on the coming New Year and Merry Christmas by the director of IMI, associate professor M.T. Shekhine, deputy director for educational activities of the IMI, associate professor A.A. Kryukov, Deputy Head of the Education Department L.A. Chernyakova. They wished everyone health, success in their studies, and happiness.
Those who took part in the event held on the eve of the holidays saw a master class on decorating a Christmas tree, took part in a New Year's quiz, got acquainted with festive dishes from different countries, and took part in choosing the winner of the competition for the most creative Christmas tree decoration. Throughout the event, vivid video greetings from Malaysia, Brazil, Botswana, South Africa, the Maldives and other countries of the world were shown.
Students and teachers had a lot of fun and interesting time at Zoom ahead of the holidays. Merry Christmas and Happy New Year!