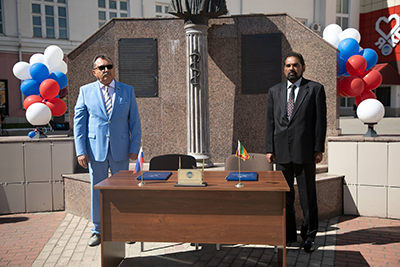 An important event took place within the framework of the solemn celebration dedicated to the beginning of the new academic year and the initiation ceremony for freshmen – a Memorandum of Cooperation was signed between KSMU and the University of Sri Jayewardenepura.
The document was signed by the Rector of KSMU, Honored Doctor of the Russian Federation, Honored Scientist of the Russian Federation, Deputy of the Kursk Regional Duma of the VII convocation, Honorary Citizen of Kursk, Doctor of Medical Sciences, Professor Victor Anatolyevich Lazarenko and the Vice-Chancellor of the University of Sri Jayewardenepura Senior Professor Sudantha Liyanage.
Sri Jayewardenepura is the first university founded in Independent Ceylon. Today the University stands strong with eight faculties, faculty of Humanities and Social Sciences, Faculty of Applied Sciences, Faculty of Management Studies and Commerce, Faculty of Medical Sciences, Faculty of Graduate Studies, Faculty of Engineering, Faculty of Technology and its latest addition Faculty of Allied Health Sciences. The university has more than 12,000 students and more than 1,000 postgraduates.
– Despite the fact that Sri Lanka is a developing country, we do not have enough places for applicants for medical education, and therefore we are looking for new sites for them. And one of the best universities is located in Kursk, – explained the senior professor Sudantha Liyanage. – We have made sure that KSMU has created excellent conditions for training of future doctors. We were simply struck by the accreditation and simulation center, as well as the anatomical theater and training laboratories. We hope that our academic teaching stuff will also be able to visit your university in the near future to exchange experience as part of the academic exchange.