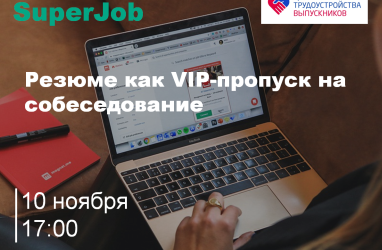 Dear friends, we invite you to the third lesson in the framework of the KSMU educational course "Effective employment" – an online master class "Resume as a VIP pass for an interview", which will be conducted by a leading expert of KSMU partner – SuperJob company.
Writing a resume is not as easy as it seems, it is a whole art, especially if the applicant had no work experience before. Creating a resume is a responsible process that requires attention and logical thinking. The most important thing is to develop the ability of self-presentation, to answer the question to myself: what makes me better and more unique than other candidates for the vacant position. This skill can be useful even during university studies, if it suddenly becomes possible to combine work and study.
The following questions will be considered during the lesson:
– what is a "selling resume" and what tasks does it solve;
– what is worth and what should not be included in the resume;
– how to correctly describe your work experience;
– how to find achievements in your experience and describe them profitably;
– how to show that you are ready for the next step in your career;
– how to indicate personal qualities in a resume;
– how to adapt a resume for different employer vacancies;
– how to write an effective resume without work experience.
Typical mistakes in the resume will also be analyzed.
To participate in the event, you should pre-register on the platform Webinar.ru by the link:  https://events.webinar.ru/7056/9005985.
The Graduate Employment Center wishes you good luck in mastering resume writing skills!