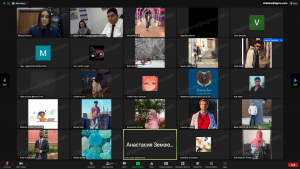 As a part of a series of events on social and cultural adaptation for new foreign citizens studying at the Kursk State Medical University, on December 9, 2021 , on the International Day against Corruption, the International Medical Institute hosted a traditional meeting of foreign students with law enforcement officers of the Kursk region.
The meeting was attended by the Prosecutor of the Department for Supervision of Criminal Procedural and Operational-Investigative Activities of the Prosecutor's Office of the Kursk Region V.S.Romanchenko, senior detective for especially important cases of the Center for Countering Extremism D.V. Ostrovsky, senior detective for the Department of Internal Affairs of the UKON Department of the Ministry of Internal Affairs Russia in the Kursk region Lobova O.A., inspector for special assignments of the department of organization of migration registration and issuance of visas and invitations of the department of visa permits of the UMVD of Russia for the Kursk region O.V.Batochko, deputy head of the department for ensuring safe life, civil defense and emergency situations Eremin G.T., director of the International Medical Institute Shekhine M.T., foreign students and employees of IMI. The total number of participants was over 640 people.
During the meeting, new foreign students and the active community of foreign students of KSMU were explained changes in migration legislation regarding entry and stay in the Russian Federation, the issue of drug trafficking and responsibility for violation of the law was discussed, issues of criminal and administrative responsibility for participation in corruption were discussed. , extremist and terrorist activities.
Special attention of foreign students was focused on recommendations for ensuring safe work on the Internet, issues of general life safety, rules of conduct on water bodies, rules for evacuation in case of an emergency or fire.
The administration of Kursk State Medical University urged foreign students to strictly follow the recommendations of law enforcement officials, which is the key to a successful and safe stay in the Russian Federation.