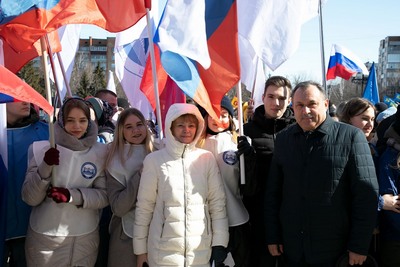 On March 18, Russians celebrate a landmark event – the anniversary of Crimea's reunification with Russia.  In 2014, the peninsula, which was an autonomous republic within Ukraine, became a territorial entity of the Russian Federation as a result of a referendum. It happened eight years ago.
Today, a patriotic rally dedicated to this event was held at the Teatralnaya Square in Kursk. Hundreds of Kursk citizens, as well as guests of our city, came to it.
– 8 years ago as our President told, the Crimea and Sevastopol returned to the native harbor. A lot of work has been done during this time. Today, the peninsula is a completely different land. Everything was repaired, the new infrastructure was built, the Crimean bridge was built as well. I sincerely congratulate you on this event, I wish you a peaceful sky above your head, — Governor Roman Starovoit addressed the Kursk citizens.
A lot of young people were present at this patriotic event. The delegation of Kursk Medical University was one of the most numerous. More than two hundred students, headed by the rector Victor Anatolyevich Lazarenko, formed a powerful column over which the Russian tricolor and university banners fluttered.
– Today we express solidarity with the inhabitants of Crimea. This is especially important for young people – to create new projects, to cherish and strengthen friendship, to appreciate what was created and won by their ancestors, not to leave their own in trouble, only unanimity and cohesion in love for the Motherland can become the basis of prosperity of our state, and together we will withstand everything! – the rector of KSMU V.A. Lazarenko said.