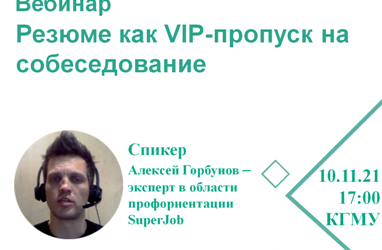 On November 10, 2021, according to the schedule of the educational course "Effective employment", an online webinar was held on the topic: "Resume as a VIP pass for an interview". The speaker of the career webinar was an expert in the field of career guidance, a specialist of SuperJob Alexey Gorbunov.
A well-written resume is the key to starting a successful career. Looking through a significant number of resumes, the employer evaluates not only the competently specified work experience, education, personal qualities, but also the skills of providing information about himself, which produces some emotional response and allows you to arouse a desire to learn more about the candidate for the position. Alexey told the students of KSMU how to professionally "stand out" among other applicants' questionnaires and get an invitation to an individual interview with a recruiter. In addition to analyzing each structural unit of the resume and providing recommendations on its design, the speaker emphasized that the employer is in the center of attention when viewing the applicant's questionnaire.
Of particular interest to the audience was the discussion of errors in the preparation of a resume and ways to eliminate them.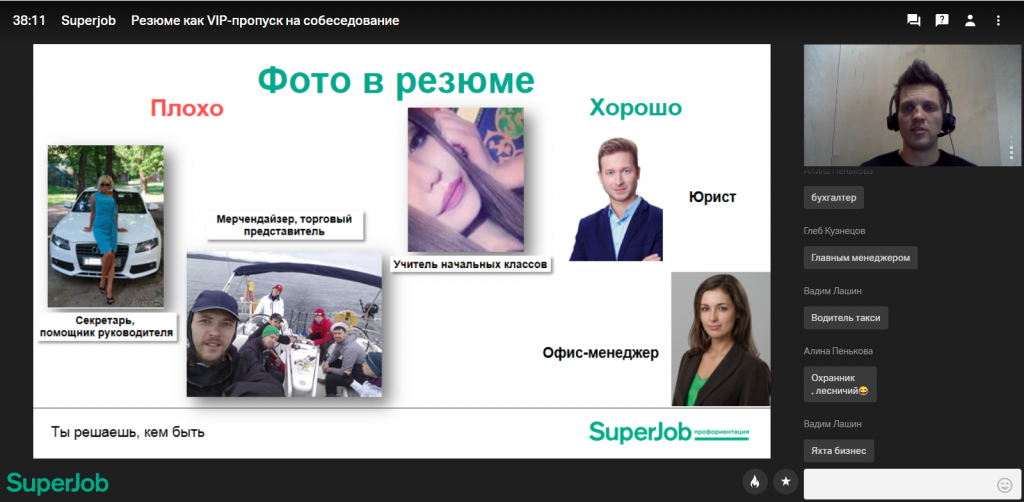 At the end of the master class, 2nd year student of the 35th group of the Faculty of Medicine Vadim Lashin shared his impressions with us: "Today I took an active part in a master class from SuperJob on the topic: "Resume as a VIP pass for an interview." I completely immersed myself in the atmosphere of studying my own abilities and capabilities, noted for myself that I already have experience in my professional field (I volunteer, write articles, etc.), that is, I already have something to reflect in my resume, although I have no work experience. After the webinar, I analyzed my strengths and weaknesses of personality and wondered what I could indicate in the "Personal qualities" column. Many thanks to the organizers, namely the KSMU Graduate Employment Center, for the opportunity to participate in this webinar! For us, students, this information was very valuable and relevant. I will be happy to take part in further similar meetings on preparing for a job search."
Dear students, please note that the Audit-Resume service is available to you. The staff of the KSMU Graduate Employment Center will help with the preparation of a resume from scratch or will carry out consulting and correctional work in an independently prepared version by you.
The next lesson in the framework of the educational course "Effective employment" will be held in December on the topic: "Professional portfolio of a university graduate as a means of self-presentation", where the speaker will explain to you how to compose and further handle a portfolio, as well as teach you how to use the KSMU "Electronic Portfolio" service. Follow the news of the Graduate employment center on our information resources!