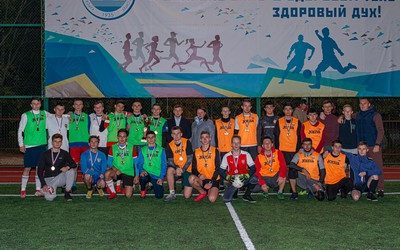 From September 27 to October 12, 2021, Kursk State Medical University hosted the autumn Cup of the Student Football League. The autumn Cup brought together 18 teams from professional educational organizations and educational institutions of higher education of the Kursk region.
The Games were held at the outdoor sports ground of the Medical and Pharmaceutical College of KSMU in the 8/8 format according to the Olympic system, in compliance with all preventive measures. In the final, the teams "Farmcolledge" from KSMU and the team "Skrepyshi" from KSU met. In a stubborn struggle, the team from KSU won with a score of 3-2. The third place was taken by the team "Nigeria 1" from KSMU. The winners and prize-winners were awarded a cup and medals from the hands of the project manager, teacher of the Department of Physical Culture Bobrovsky Evgeny Anatolyevich and head of the Department of Physical Culture of KSMU Neduruyeva Tatiana Valerievna.
The KSMU Student Football League was opened in July 2021. Its goal is to organize health-oriented leisure for students and create conditions for the development and popularization of football among students of educational organizations of higher and secondary vocational education.
Congratulations to the participants and organizers on the successful holding of the autumn Cup and we invite everyone to participate in further events of the KSMU Student Football League!