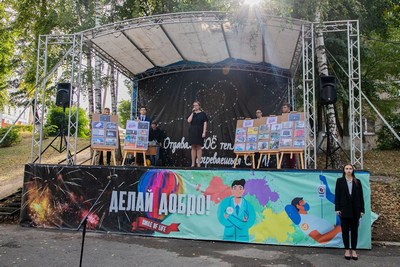 On the outdoor performance stage in front of the pharmaceutical building, students of KSMU held a peacekeeping action dedicated to the Day of Solidarity in the Fight against Terrorism. This Day – September 3 – appeared in the calendar of memorable dates of our country since 2005. It is timed to coincide with the tragic events that took place in Beslan in September 2004.
On September 1, a terrorist squad occupied School No. 1. The criminals took 1128 people hostage. There were mostly children and women. The victims of the attack were 318 people, 186 of whom were school pupils. The terrorist attack in Beslan has become one of the most brutal in the modern history of Russia.
The event was attended by: Rector of Kursk State Medical University Professor Viktor Anatolyevich Lazarenko, lead investigator of the Center for Countering Extremism of the Administration of Ministry of Internal Affairs of Russia for the Kursk Region Natalia Nikolaevna Matyukhina, Vice-Rector for Educational Activity and General Affairs Vasily Petrovich Gavrilyuk, Vice-Rector for Research Work and Innovative Development Vyacheslav Aleksandrovich Lipatov, Vice-Rector for Educational Work, Social Development and Public Relations Alesya Anatolyevna Kuznetsova, Director of the International Medical Institute of KSMU Chahine Mohamad Toufic and deans of faculties.
The representatives of the administration headed by the rector and guests of the event noted in their speeches that terrorism should be prevented rather than fought. Only tolerance and mutual respect will prevent the growth of the social base of terrorism, deprive criminals of hope for support in society.
On this day, members of creative groups of the Center for Creative Development of KSMU read poems, performed songs on the relevant topic, and also prepared a photo exhibition dedicated to the fight against terrorism.
The event culminated in a minute of silence, during which students with candles lit in their hands lined up near the stage. Every country has a tradition of lighting candles in honor of the dead. Life is like a candle, as long as a person is alive, burning with the thirst for life and giving warmth and light of soul to people. The event was closed by releasing white balloons into the air – a symbol of memory of the victims of terrorist attacks.
The participants of the peacekeeping action paid tribute to the memory of thousands of compatriots who died at the hands of terrorists in Beslan, in the theater center on Dubrovka, in Budennovsk, Pervomaisk, in the bombings of residential buildings in Moscow, Buinaksk and Volgodonsk, in hundreds of other terrorist acts. After all, it is extremely important for our university to educate responsible and worthy citizens who respect the rights and freedoms of individuals, have high morality and show national and religious tolerance, respect for the languages, traditions and culture of other peoples.