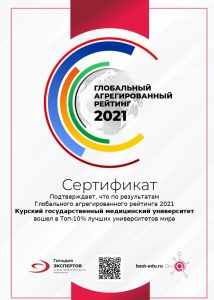 According to the results of the Global Aggregated Rating 2021, Kursk State Medical University entered the Top-10% of the best universities in the world.
The global aggregated rating is a classification of educational institutions of higher education, ranked according to the indicators of 11 ratings and one public database.
The source of information used for aggregation is open data of the most popular ratings:
THE – TIMES HIGHER EDUCATION WORLD UNIVERSITY RANKINGS (UK);
QS WORLD UNIVERSITY RANKINGS (UK);
ARWU – ACADEMIC RANKING OF WORLD UNIVERSITIES (China);
MOSCOW INTERNATIONAL RATING "THREE UNIVERSITY MISSIONS" (Russia);
US NEWS – BEST GLOBAL UNIVERSITY RANKING (USA);
RUR – ROUND UNIVERSITY RANKING (Russia);
CWUR – THE CENTER FOR WORLD UNIVERSITY RANKINGS (UAE);
NTU – PERFORMANCE RANKING OF SCIENTIFIC PAPERS FOR WORLD UNIVERSITY (Taiwan);
CWTS – CENTRE FOR SCIENCE AND TECHNOLOGY STUDIES (Netherlands);
SIR – SCIMAGO INSTITUTES RANKINGS (Spain)
URAP – UNIVERSITY RANKING BY ACADEMIC PERFORMANCE (Turkey);
DEQAR (European Database Of External Quality Assessment Results).