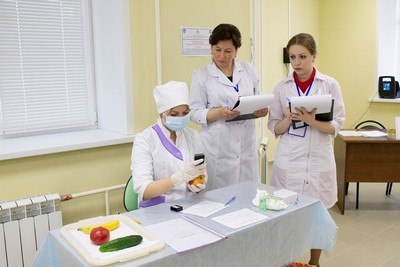 The Medical and Pharmaceutical College, which is a structural subdivision of KSMU, is the only educational institution in the Kursk region that produces specialists of laboratory medical analysis. This direction is one of the competitive ones at the VIII National Championship of Professional Skills among people with health limitations and disabilities "Abilimpics".
– Laboratory diagnostics provides 80% of objective information about the patient's health status. Therefore, the professionalism of the laboratory assistant is very important for making the correct diagnosis and prescribing competent treatment, – says the vice–rector for Educational Activities and General Issues of KSMU, Doctor of Medical Sciences V. P. Gavrilyuk. – Today, our students with disabilities participate in the regional stage of the international movement "Abilimpics". They have a chance to reveal themselves, to believe in their capabilities. KSMU is a monopolist in the production of laboratory diagnostics specialists. We are confident that all our graduates, including those with disabilities, will be of great value in medical organizations.
The regional qualifying stage was held on the basis of the Federal Accreditation Center of KSMU on April 26. The observers of the competition were the representatives of practical healthcare institutions – future employers of young laboratory assistants.
Five IFC students with disabilities studying in the specialty "Laboratory diagnostics" participated in the regional stage of "Abilimpix". Each of the girls demonstrated professional skills in five competitive tasks. Among them – registration of biological material for hematological, biochemical, immunological studies, microscopic examination of a general clinical preparation; staining and analysis of reticulocytes by the test tube method; determination of the presence of pathogenic microflora by express test. The contestants also determined the amount of nitrates in vegetable products: as a result of research, the experimental banana, tomato, apple and cucumber were recognized as quite edible.
Anastasia Barteneva became the winner of the regional stage. She was very worried, but according to the results of the competitive tasks, she scored 92 points out of 100 possible. Anastasia is grateful to her teachers, college, university for the opportunity to get a wonderful profession.
According to IFC Director Irina Viktorovna Tolkacheva, the specialty of medical laboratory technician is extremely in demand at the labor market. Many people with health limitations and disabilities have exactly the personal qualities that are necessary to work in this specialty. Observation, attentiveness, accuracy, concentration – allow them to become professionals in their field. Therefore, our graduates easily find a job – prestigious, necessary, humane.
Anastasia Barteneva, a 20-year-old 4th-year student of the IFC KSMU, will take part in the next round of the Abilimpix Professional Skills competitions championship.