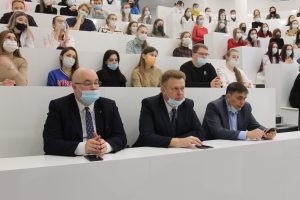 On December 10, 2021 the International Scientific and Practical Conference "Medical Science in the Era of Digital Transformation" was held on the basis of Kursk State Medical University. The conference was attended by 224 scientists and specialists, including 65 with face-to-face reports. Among the speakers are academicians of the Russian Academy of Sciences, leading professors and associate professors from universities in China, USA, Great Britain, Uzbekistan, Donetsk People's Republic. The following institutions became co-organizers: P.K. Anokhin Research Institute, Gomel State Medical University, Russian Medical Academy of Continuing Professional Education, Donetsk National Medical University named after M. Gorky, Center for Development of Practical Competencies of the Ministry of Health of the Republic of Uzbekistan.
At the plenary session, welcoming remarks were made by the heads of the co-organizing universities, the chairman of the Education and Science Committee of the Kursk Region, the President of the Kursk Chamber of Commerce and Industry, the Chairman of the Digital Development and Communication Committee of the Kursk Region, the Chairman of the Standing Committee on Education, Science and Culture of the Kursk Regional Duma.
The conference program included a plenary session, 4 symposia, 6 master classes, and a round table. Thematic symposia were devoted to the current scientific areas of modern science: "From experimental medicine to clinical practice in the era of digital transformation", "Topical issues of physiology: from the molecule to the systemic organization of functions", "Stress-induced pathology and its correction", "Genetic foundations of multifactorial pathology"…
The round table discussed issues of evidence-based medicine, ethical aspects of scientific research and pseudoscientific directions in modern science. The roundtable participants noted that it is important to carry out analytical, methodological and expert work aimed at identifying and countering the manifestations of pseudoscience, as well as the originality of the data presented. In conclusion, the participants adopted a resolution following the results of the conference, the decisions of which are aimed at strengthening interactions between scientific teams for solving joint research problems.
Link to the Seim TV channel report: https://m.youtube.com/watch?v=aeZbBCwrjBE
Respectfully yours, Candidate of Medical Sciences, Associate Professor of the Department of Histology, Embryology, Cytology, Kursk State Medical University. Ekaterina Sergeevna Mishina.Chairperson of the
Council of Young Scientists of KSMU.