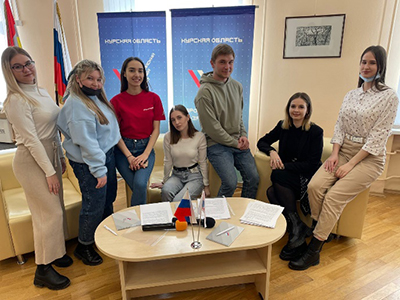 On March 16, a teleconference "In touch with Crimea" was held in the Youth Palace with the students of Crimea and Kursk universities, dedicated to the Day of Reunification of Crimea and Sevastopol with Russia. Students of Kursk Medical University took part in the event.
The purpose of the event was a cultural exchange between young people of the Republic of Crimea and our region, so that students could learn first-hand about the events of February and March 2014, about the feelings, thoughts and emotions of Crimeans during the Crimean Spring.
The dialogue took place in a warm atmosphere of mutual understanding. Students of Crimean universities, smiling, shared the joy they and their relatives experienced when they learned that according to the results of the referendum and with the support of the Russian authorities, the Crimean peninsula would be returned to Russia.
Students from Crimea were very pleased to learn that in the Kursk region the Day of the Reunification of Crimea with Russia is an important holiday, to which a lot of bright events are timed.
"The teleconference was a great opportunity to look at the events through the eyes of the people, who dreamed for a long time of tricolor fluttering over their administrative buildings. Although I was still a child then, I remember very well how happy my family was for the residents of Crimea. And the joy and happiness of the Crimeans themselves, carried through 8 years I felt today", – the student of the 2nd year of biotechnology faculty Egor Semikin shared his impressions.