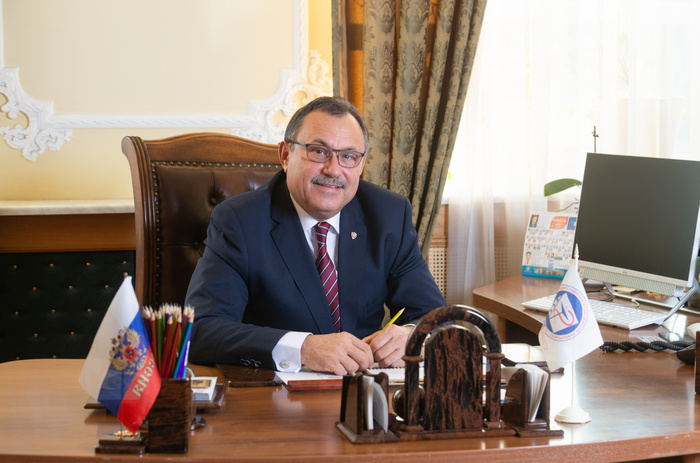 Dear colleagues, students!
Please accept our congratulations on the 87th anniversary of the university!
Kursk State Medical University throughout its history has played an important role in training of medical personnel. Our graduates work in medical, scientific institutions, healthcare organizations in Kursk, other cities and countries. Since 1935 the university has trained more than 50 thousand doctors, pharmacists and other healthcare professionals. We are proud of everyone! The university gave you a solid knowledge base – the foundation on which you built your professional path.
The leading positions in Russian and international rankings have become a confirmation of the high reputation and quality of training of specialists at our university. Kursk Medical University was included in the ranking of the best universities in developing countries in Europe and Central Asia, in which only two Russian medical universities are represented, and our university became the only university in Kursk included in the 2nd League of NAR-2021, representing universities with high and stable ranking indicators.
Kursk Medical University actively develops the export of educational services, trains medical personnel for more than 50 countries of the world. Last year, our university received international accreditation for the period of five years. Graduates of our university are competitive specialists not only in their country, but also in Europe and America. Among the leading partners in the field of educational services of KSMU are India, Malaysia, Sri Lanka, Nigeria, Brazil, Thailand, Maldives, Uzbekistan, Turkmenistan, Tajikistan.
The successes and achievements of the university are the results of work of the entire team, academic teaching staff. Today, the university is represented by 679 scientific and pedagogical workers, among which there are 122 doctors of science and 367 candidates of science. Honored doctors of the Russian Federation, employees of the higher school of the Russian Federation, teachers of the Russian Federation, healthcare workers of the Russian Federation are among the university staff. You conduct successful practical, scientific activity. You set an example for students and they follow it.
The university continues to actively help regional healthcare in the fight against COVID-19. University teachers, students have worked and continue to work in the "red zone", engage in volunteer activity. Thousands of people are involved in this great and important work.
I am sure that the strong traditions that have developed in the alma mater, the unique scientific potential of the staff, accumulated over many years, will allow the university to continue the successful development and to achieve new heights in education and science.
With all my heart I wish the staff, students, graduates new achievements, well-being and health!