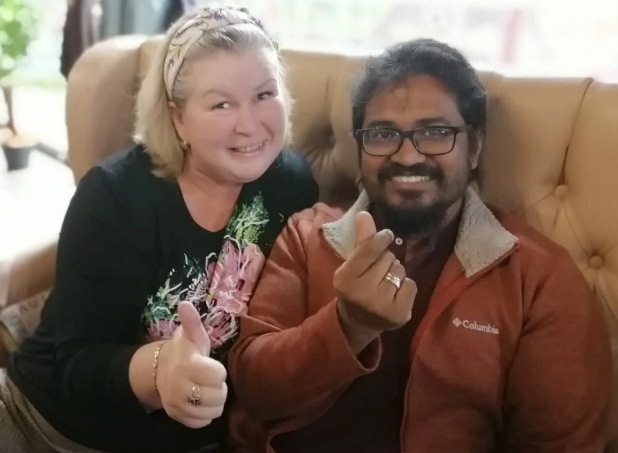 "Fall 2022…September…
What do we expect from this beautiful time of the year?
Students look forward to studies, new classes and knowledge, teachers – works and new students!
And what is rainy September Saturday best remembered for the head of the Gaudeamus choir of KSMU?
Of course, it is an unforgettable meeting of good friends! It is students who become good friends. Those who were the choristers of the GAUDEAMUS academic choir of Kursk State Medical University in the past, revealing their souls on the stage for many years, bright participants in the creative life of KSMU, and now they are doctors and medical workers….
Back in 2009, Vara was a wonderful chorister, a student of the International Faculty of KSMU. He graduated from our university with a degree in medicine and went to his homeland, back to distant Malaysia, to treat, save people and heal their souls.
…And here is the rainy Saturday of September. The call, the conversation …and in 13 years, Dr. Vara and I met in Kursk to remember very creative student years, scroll through the pages of the photo album and even look into the newspaper articles about us, about the Student Spring of the Nightingale Land and our performances!
You ask, how is that possible? How it turned out that being one day in Moscow, Dr. Vara arrived to Kursk in the Alma mater and in the native choir of Gaudeamus at once?
I will answer as follows: our choir is one big friendly creative family that knows no boundaries and connects many generations of graduates and students of Kursk Medical University. And if you come to sing, study, perform in the Academic Choir of KSMU, then these years will remain forever in your heart and your soul …"
Lilia Nikolaevna Nortsova, teacher, choirmaster, Head of the Folk Group of Amateur Artistic Creativity of KSMU "Academic Choir Gaudeamus"
P.S.Dr Varatharaja Thirugnana, Kuala Lumpur, Malaysia, graduated from Kursk State Medical University in 2009. He is a doctor, married, has three children. As Dr. Vara himself says, the brightest and best memories of Russia are the years of classes and performances in the choir of KSMU with Madame Lilia. As part of the academic choir of KSMU, Dr. Vara was a repeated participant of the Student Spring in his student years, bright cultural events of Kursk Medical University and our region.
We thank Lilia Nikolaevna Nortsova for the provided photo material, careful attitude to the history of the university and great love for graduates of the academic choir of KSMU!