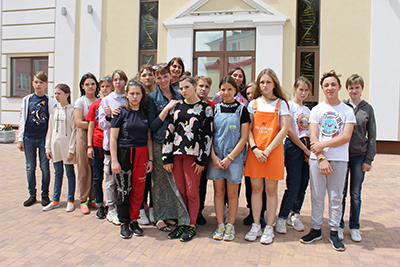 A group of 21 teenagers aged 15-16 visited the Anatomical Theatre of KSMU, got acquainted with the sights of the university, decoration of the courtyard, numerous sculptural compositions.
The purpose of the event was to present the largest higher education institution of the Kursk region to the children, acquaint them with profession of the physician, introduce them to a healthy lifestyle, show consequences of all possible abuses on an example of prenatal ugliness, – the curator of the group, clinical psychologist Lyubov Ukraintseva comments.
The children were evacuated from Amvrosievskaya orphan boarding school located in Donetsk region. The neighbourhoods of the boarding school were shelled and bombed. These children, deprived of parental care, found themselves in a difficult life situation. They have been living in Kursk since February 2022 at Regional Public Establishment Kursk Center for Minors. Each of them received Russian citizenship, prospects of education, employment and the most important condition for a happy youth – a peaceful life.
Visiting Kursk Medical University proved very useful in career guidance: many of the children became interested in the profession of doctors. One of the pupils, 16-year-old Elena Tarasyuk intends to go to Kursk Medical and Pharmaceutical College in the near future, which is a structural division of KSMU.